Monthly rates is the conversion rate to take a transaction from its local dollar value to a base rate. From this menu, choose the rate type (ie: average or closing) and type in the corresponding conversion rate. Users also have the ability to import currency rates.  
Monthly rates requires the following:
Rate types have been configured (see Rate Types)
The user must select a rate type from the drop down.
It is assumed that the rate type being typed in is to be multiplied by the base rate and not divided by.
Users can type in conversion rates of up the 12 digits to the left of a decimal and 16 digits to the right of the decimal.
The following details the case where an organization has not enabled rate types per entity.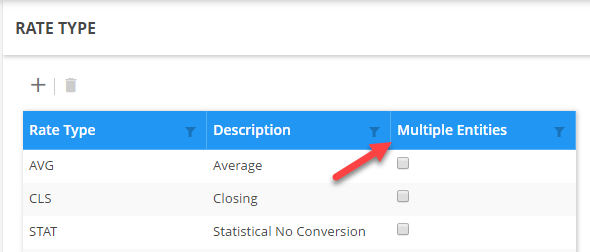 In the case where the organization has enabled rate types per entity, there will be a second drop down after selecting the rate type that will allow the user to type in the monthly rate for the rate type and entity selected.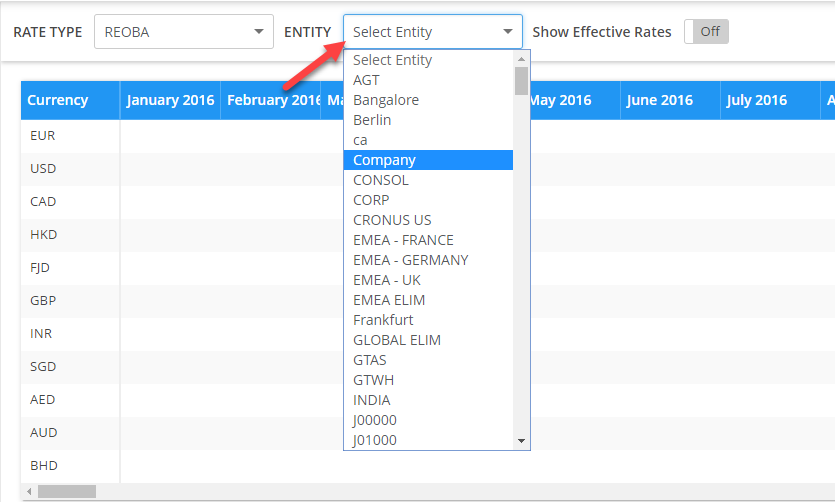 Add a Monthly Rate
From the Monthly Rates menu, click the Rate Type drop down.

Daily rate functionality is not available at this time.

Set your default rate (1) for the base currency. For example, if you are going to be converting transaction amounts from a local currency to USD, your default rate (1) should be set to US Dollar.

You do not need to type in default rate for each month for the base currency; simply type it into the first month of your financial calendar. Hit Show Effective Rates to see the the default rate populated across your entire Data Warehouse calendar.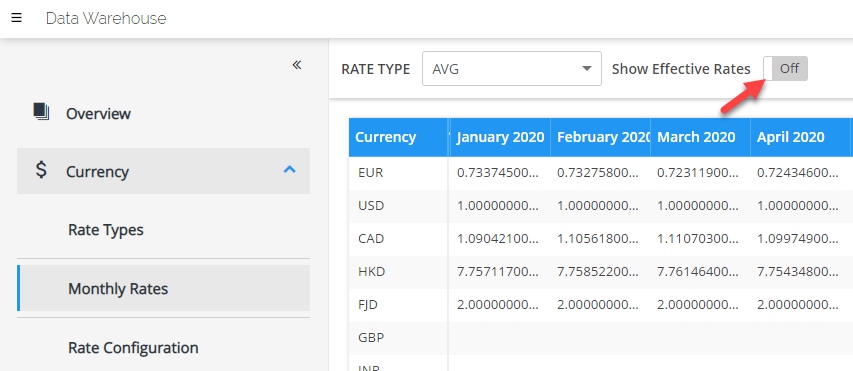 After selecting a rate type, the currency codes and the calendar configuration as configured in Data Warehouse will appear.
Double click into a cell to type in the conversion rates as they appear on a calendar basis.
As rates as needed until all rates have been added.
Editing a Rate Type
To edit a rate type:
Select the Rate Type.
Select the cell of the value to be edited.
Type in the updated rate type and hit enter.
Deleting a Monthly Rate
To delete a monthly rate:
Select the Rate Type.
Select the cell of the rate type to be deleted.
Delete the contents of the cell to delete the rate type,