---
Feature Change
The Data Warehouse Entity dimension Currency field has been changed from a text input field to a drop down selection, based on currency codes created in the Currency Dimension.
In the Entity dimension overview page, double click on any Currency field cell to access the drop-down and select the desired currency code.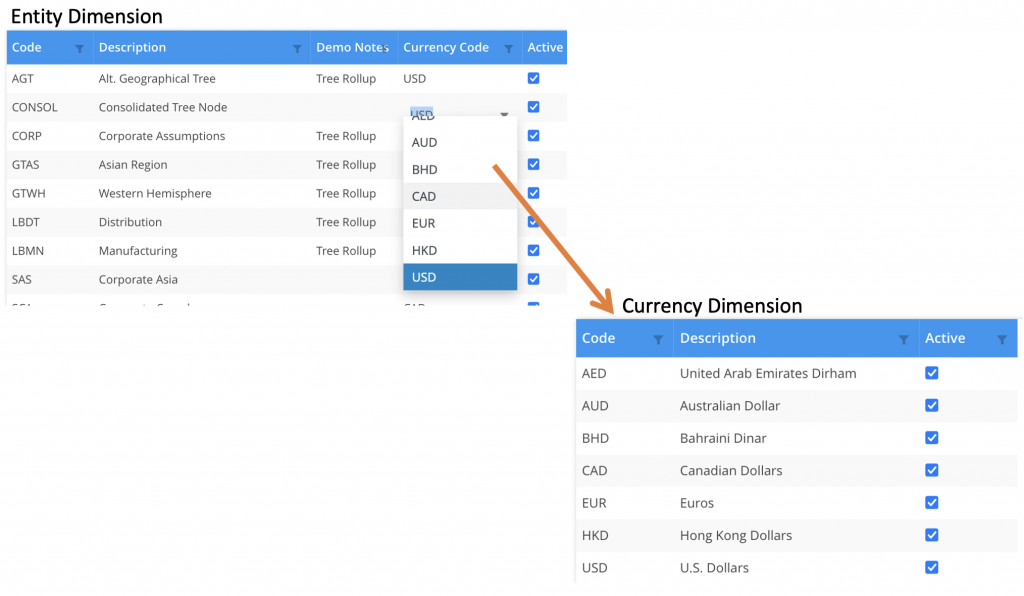 Fixes & Enhancements this month
General Portal & Data Warehouse
Data Access permissions shows the underlying attribute name instead of the associated dimension in the header section.
Allows for selecting a period to base the Period filter on
Adds an option "Based on" option under pre-defined period filters to select the period that the period function should be based on rather than the current period.
Data Job notifications for scheduled jobs that were manually ran by the user were showing the times in UTC instead of the selected regional time zone.
Currency rates are not displaying when the Entity dimension is empty.
Reporting and Input Templates
Performance improvements to the template rendering engine.
Issue with large expansions producing incorrect reports.
Expanding groups in Report Archive was not working.
Storage of foreign characters was not working.
After a change to how templates are rendered, the following period functions were not included in last months release. These functions are added back in: ALL2YFor, All3YFor, RBC12M, RF36M and RFC12M.
Input Flow
Input Flow was not sorting templates on name.
Input Flow's "Complete Iterations" text was being cut off.
Input Flow displaying an "Edit in Report Designer" if the user navigated between specific applications.
Fixes Input Flow's presentation of ranges
Rather than displaying all of the values (e.g. 1,2,3,4), Input Flow will now display them as a range (1:4).
Ad Hoc Reporting
In some time zone's the date field caused application issues.
After setting access permissions for roles, Ad Hoc Reporting would cache the permissions and did not update when changes were made to the permissions of a role.
Improved performance when loading the modules and dimension fields.
Regional date formats were not inheriting the selected language.
Period filters were not refreshing when collapsed.
Period start and end dates were shifting by one day back causing an incorrect period range.
Date filters were not reverting correctly.
A date filter should be added when a date field is added to the report.
The application would crash in some cases when the user clicks cancel while opening a new report.
Removed access to integrations and connections unless the user has access to multiple companies.
QuickStart
Updated existing Reporting & Planning templates for D365 Business Central and Finance QuickStart customers.